Dyson V7 Quick Release Mini Motorhead Assembly 967479-04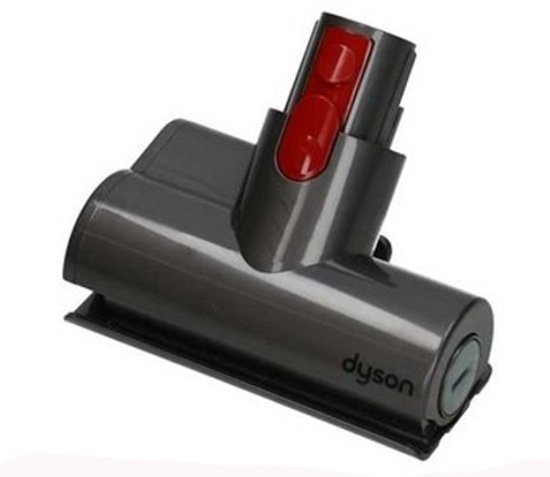 Dyson
Genuine Dyson V7 Quick Release Mini Motorhead Assembly 967479-04
Home & Garden > Household Appliances > Vacuums
dyson-mini-motorhead-assy-ir
967479-01
29.96
The Electric Incentive Co. Ltd (T/as) TheLivingStore
https://www.thelivingstore.co.uk/Item/dyson-mini-motorhead-assy-ir
Dyson V7 Quick Release Mini Motorhead Assembly 967479-04
Dyson V7 Quick Release Mini Motorhead Assembly 967479-04
Genuine Dyson V7 Quick Release Mini Motorhead Assembly 967479-04
Vacuum Cleaner Mini Motorhead

Ensuring that your motorised cleaning head works effortlessly will ensure that you can keep your home clean. This replacement mini tool quickly snaps onto your Dyson and helps clear away dirt and debris throughout your home.

This tool will gently clean any crumbs on your worktops and upholstery, the motorised head can smoothly glide over your surfaces collecting everything in its path. This assembly comes complete with everything to allow it to connect to your cleaner allowing you to begin cleaning your home.

Please check the suitable model fit list to ensure that this is the correct part for your appliance.

Part No: 967479-04. Suitable for: Dyson V7 Car+Boat Dyson V7 Animal Pro Dyson V7 Complete Dyson V7 ️ Absolute Dyson V7 Motorhead Dyson V7 Trigger Dyson V7 Total Clean Dyson V8 Animal Dyson V8 Animal+ Dyson V8 Absolute Dyson V8 Total Clean Dyson V8 Absolute Pro Dyson V8 Animal Extra Dyson V8 Animal Complete Dyson Cyclone V10 Absolute Dyson Cyclone V10 Animal Dyson Cyclone V10 Absolute + Dyson Cyclone V10 Total Clean Dyson Cyclone V10 Animal Pro Dyson V11 Animal Dyson V11 Complete Dyson V11 Complete Dyson V11 Torque Drive
Software: Kryptronic eCommerce, Copyright 1999-2020 Kryptronic, Inc. Exec Time: 0.106637 Seconds Memory Usage: 8.849739 Megabytes